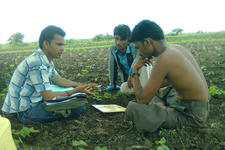 Martin Rotemberg
There's been more activity on the question of the importance of RCTs.  Last week, Bill Easterly wrote his thoughts about randomized controlled trials (RCTs) on his blog, and Chris Blattman posted a response. Both of them seem to take the perspective...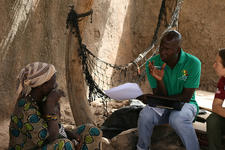 CREDIT:
Camille Boudot & Andre Butler
Ryan Knight
I just finished piloting a survey for the Returns to Business Management Consulting project, and was often in awe of their abilities.  A good surveyor can say nice to meet you, shake your hand, and five minutes later have you saying things you ...
  FAI invites you to two upcoming events: ACCION USA Microfinance Council: Domestic Microfinance Panel Discussion Location: The New School, 66 West 12th St., 5th Floor, Wollman Hall, NY, NY
Aparna Dalal
In early June, I joined several hundred researchers at the First European Research Conference on Microfinance hosted by CERMi.  The three-day conference included presentations on a wide array of subjects including social responsibility,...
Tania Alfonso
How has Michael Jackson's death helped advance the cause of IPA? I've just come back from rural Cusco, Perú, where we were training credit officers for our newest project, where we use video and radio to help teach village bank clients concepts...
Kartik Akileswaran
Courtesy of the Wronging Rights blog (http://wrongingrights.blogspot.com/2009/07/using-metaphors-to-solve-worlds.html), here (http://blog.foreignpolicy.com/posts/2009/07/01/new_anticorruption_device_pocketless_pants) is one of the more peculiar...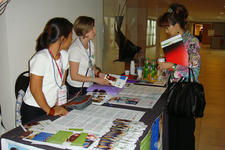 Tania Alfonso
When we return to the US after months or years of working in the field, we often experience "reverse culture shock" - aspects of US culture seem surprising and unusual to us.  I felt this when explaining "What is IPA?" to family members and friends...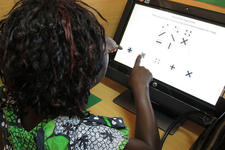 Kerry Brennan
Fieldwork is not all fun and games, but that seems to be the recent experience for IPA Research Affiliate Chris Blattman's project evaluation, "Women's Income Generating Support (WINGS) Program"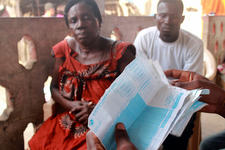 Alex Bartik
We just completed the baseline survey for one of the projects I'm working on in Cagayan de Oro, the Philippines.  Consequently, I've been spending most of my time the last few weeks thinking about how to get good data.  Getting the right information...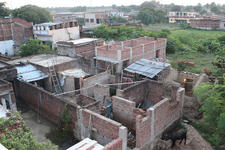 Meredith Startz
New York Times columnist Nicholas Kristof offers an online degree in evading bandits for Americans abroad. Although I suspect that most IPAers would agree with the spirit of Kristof's recommendation - that young people should spend time abroad - I...
Meredith Startz
IPA research affiliate Chris Blattman occasionally takes a break from his rigorous impact evaluations of clowns to send a great idea out into the blogosphere. A couple of weeks ago, he suggested that what development organizations really need to...
Sarah Kabay
Once, expressing concern over some logistical difficulty, I was reassured by a headmaster, "Do not worry Sarah, we shall succeed."  Such conversations tend to surprise me, as we're introducing a savings scheme to an area defined by general distrust...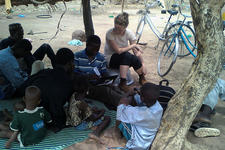 Elana Safran
A funny thing is happening these days in Northern Ghana. After months and months of planning, we are almost at the point where we give 200 farmers actual cash to use on their maize farms. As with many of IPA's research projects, the participants are...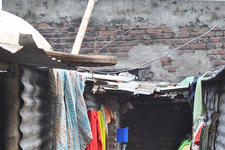 Caitlin Weaver
Last week the New York Times reported on the demolition of the home of one the child stars from Slumdog Millionaire: "In a scene reminiscent of the gritty landscape from the hit movie "Slumdog Millionaire," municipal workers on Thursday demolished...
Jonathan Bauchet
So far, 2009 has been a fertile time for methodological debates in econometrics. One hot debate touches directly on randomized control trials (RCTs), a methodology often used in impact evaluations of development interventions.
Dean Karlan
Nice blog post by David Roodman at the Center for Global Development.  Two randomized trials on microcredit coming within the next month.  One from India and one from Philippines.  Stay tuned please....
Meredith Startz
In a set of recent interviews with microfinance institutions in the Philippines, we discussed the challenges faced by organizations offering agricultural microloans. One non-profit we spoke with is having particular difficulty, with portfolio at...
Delia Welsh
Check out two recent blog posts that describe the importance of experiments in making smart decisions about microcredit programs and other business ventures.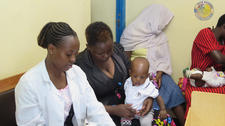 Dean Karlan
This month's Atlantic Monthly has a controversial article about breastfeeding, specifically making arguments against breastfeeding.  The arguments are of two types.  One is social and normative, and the other is on the evidence.  My thoughts,...
Dean Karlan
This seems to be our week to blog about Bill Easterly's blog.  Although in this one, we aren't going to agree as much.  I was really excited to see his report about Women's Trust until I got to the final paragraph:
Pages